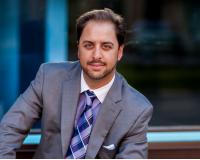 JP Piccinini is CEO and Founder of JP and Associates REALTORS (JPAR), Founder and CEO ofOdasi Real Estate App, as well as an entrepreneur, author, philanthropist, and proud father.Best known for growing JP and Associates REALTORS from $20M a year in sales in 2012 to close to $2B in sales in 2017 in 5 short years and thus creating one of the (if not the) fastest growing real estate brokerage in the US.
Before becoming American entrepreneur – Mr. Piccinini's journey started in Italy where he was born. He immigrated to America when he was only 13 years old, where he first learned English. In his new hometown of Wichita Falls, TX, he attended Burkburnett High School and later earned a BS degree in Engineering at Midwestern University, after his parents returned to Italy. As of June 2016, Piccinini is a proud American citizen.
Prior to real estate, Piccinini's career began by crossing the globe as a project manager and engineer for fortune 500 companies both in the aerospace and consumer goods sectors. He credits the corporate training, methodology, and travel from these careers for the success he's had in his real estate career, which began in South Carolina. There, he became a top-selling agent, where he closed 10 times more deals in a year than the average realtor. After several years climbing the ladder and hundreds of deals under his belt, he was compelled to move back
to Texas in DFW.
In October of 2011, in his Frisco home, Piccinini began JPAR with a vision of a real estate brokerage firm dedicated to exceeding expectations through productivity and service. His plan was to train and hire only full-time career real estate professionals who shared the same passions for real estate and helping others as he did. With the company's overly successful 100%-commission model, it truly is a full-service brokerage at a transaction cost.
Soon, his philosophy and business model led JPAR to become one of the top brokerages in the US, according to REAL TRENDS 2017 report with sales exceeding the Billion dollar mark in 2016 and beyond. JPAR was also ranked as an RISMedia Top 500 Power Broker and named an Inc. 5000 company. Piccinini, who was named 2017 Entrepreneur of the Year, was also named CEO of the year by DMN readers and received an Industry Visionary Award. He is the author of the book the Real Estate Journey – I wasn't born here but I got here as fast I could.

Piccinini is a true Texan at heart. He and his family live happily in DFW and are avid supporters and donors of children charities such as Youth Athletes foundation, City House homeless shelter, and several other charitable organizations.


Send JP a Message